Facts on Small Coffee Roasters Emitting Harmful Emissions
(Original from 2012)
As I am sure everyone has noticed our sales have been on hold for a while.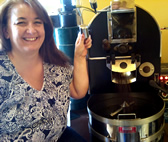 This is due to us buying a new place to roast our coffee. We found the perfect place, with great neighbors and a great community who welcomed us with open arms. However as the saying goes, there is always one bad apple in the barrel. It has been the one bad apple that has held us up from opening our doors, fighting us for our conditional use and appealing that when we won. Well with the community backing us we won on the appeal as well. However this bad apple has appealed again. So stay tuned for more updates.
During this long legal process I have found out how deep are the misconceptions that the general population has about the emissions from small scale coffee roasting. So I would like to take a minute and clear the air so to speak.
Almost ALL chemical components from the roasting process come from the burning of natural gas NOT from roasting the coffee itself.
Small roasters like our 5 lb batch machine burn less gas (16,000 BTU max) than the average home gas 50 gal hot water heater (36,000 BTU) and the average gas furnace which burns 100,000 BTU per hr.
The only pollutant of any significance that comes from the coffee itself is the particulate matter (chaff). Machines like ours have a cyclone to collect large particles and it can be eliminated altogether by using an afterburner.
Chemical emissions from small batch roasters are so minimal that most do not need permits other than possibly an Air Quality Source Registration permit that merely monitors and does not require controls.
A facility could increase gas consumption to 560,000 BTUs per hour without impacts to the public health.
Yes there are two toxic chemicals that come from burning of natural gas, both formaldehyde and acrolien. On our machine we could increase our operation by 35 times before it would even warrant monitoring. Remember your gas water heater and furnace put out way more emissions than our little roaster does.
Below you will find a link to an emissions report, it is based off of our 5 lb per batch coffee roaster which uses a max output of 16,000 BTUs per hour. Feel free to read it however if you are in a similar situation and would like to use it please ask.
While our small machine does not require an afterburner, we do understand smoke and smell may be unwanted. Because we have close residential neighbors we will be adding an afterburner to eliminate both issues. We are not required to do this but feel it is the right thing to do out of respect for our neighbors.
Emissions Report (pdf)